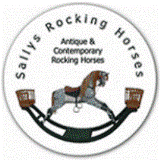 Antique Rocking Horses
Fuddle
An antique rocking horse by F H Ayres
Fuddle is a later F H Ayres rocking horse, circa 1930-40. He is currently available "as is", which needs an extensive restoration, the benefit of which will take his value considerably higher. His paintwork requires complete replacement. Fuddle has at some point been overpainted, and this paint in turn is flaking, the underlying gesso probably also needs replacing. Original glass eyes. Remanant tack is limited to the saddle, salvagable to a point, but he will also need bridle, reins, martingale and stirrup leathers. New mane and tail required, fairly normal for a rocking horse of this age. The stand has light woodworn (treated), otherwise quite salvagable. Remanants of the original transfer logo remain, indicating the stand is otherwise untouched. Spigot wedges need tightening. Fuddle is therefore an excellent restoration project, with no significant problems, that can produce a beautiful and fully working rocking horse.

Fuddle is currently undergoing a comprehensive restoration, price quoted is therefore "as is", and will increase as work progresses.
Completion due December 2013, but can be completed for Christmas 2013 delivery if ordered before end of November.
Height 37"

Body Length 22"

Length Overall 42"
Sorry Sold
To purchase or find out more about this horse, please contact Sally, either by email or phone on the links on the footer, or better still, visit our showroom in the scenic Shropshire Hills, we would be delighted to see you.

Frederick Henry Ayres was one of the leading late Victorian toy and rocking horse manufacturers. Probably second only to Lines in output, many would regard Ayres as more classic. F H Ayres was innovative with a string of interesting patents for rocking horse designs. The firm was based at 111 Aldersgate, London from 1864 until 1940, supplying most London department stores, such as Harrods as well as being widely exported. Ayres rocking horses are undoubtably the most collectable of antique rocking horses.