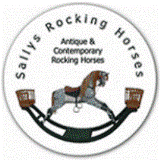 Antique Rocking Horses
Juliette: A Large Lines Bros Sportiboy
Juliette is a large Lines Bros Sportiboy rocking horse, dating to circa 1930. She has been restored by Collinsons of Liverpool at some point in the past, hence the distinctive dapple and tack of Collinsons.
The paintwork and tack are typically Collinsons style, probably done in the 60s or 70s, as it is now in need of another restoration. This includes the classice Collinsons corduroy saddle, although fitted without a back rest, as the sportiboy model (Lines Bros) had a detachable saddle. Retained as part of the original Lines rocking horse is the finer carving of both horse and stand, bowler hat caps on the rocking irons and the stamped Lines Bros rocking iron brackets.
This fine antique rocking horse is being offered "as is" with the option of retained the heritage originality of two iconic rocking horse makers, or restoring sympathetically to the original Lines pattern (which would add another £1,000 to it's value.)
As specialised antiques dealers, we authenticate our stock, why not email for a copy of this fine antique rocking horses authentication certificate, just quote stock no H77. Email sally@sallysrockinghorses.com
Height 48.5"

Body Length 28"

Length Overall 58"
£1500

Contact Details
Phone 01938 561363
Email sally@sallysrockinghorses.com
Lines Bros was a company formed after World War 1 by George and Walter Lines, sons of Joseph Lines who had founded the famous Lines company. Lines Bros became Triang in 1927 and went on the absorb the parent company and for a while become the largest toy maker in the world.

They are renowned for their sportiboy model, available in a number of sizes it featured a detachable saddle, bowler hat covers on the irons and pillar tops and the distinctive circular, later triangular triang badge.

To purchase or find out more about this horse, please contact Sally, either by email or phone on the links on the footer, or better still, visit our showroom in the scenic Shropshire Hills, we would be delighted to see you.