Antique Rocking Horses


Pendle

Crossley Brothers Rocking Horse.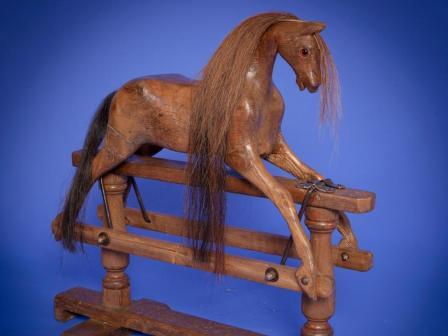 Pendle is a vintage rocking horse made by Crossley Brothers of Blackpool circa 1930-40. It has had a partial restoration, leaving the the horse in plain wood, with a varnish finish.
This is an attractive horse, with distinctive features relating to this relatively small manufacturer during the 1930s.
Height 31"

Body Length 15.5"

Length Overall 36"
Sorry Sold
Crossley Brothers was a manufacturing company based in Blackpool between 1914 and 1979. They made a range of wood products, branching out in the 1930s into toy making, which included rocking horses.
To purchase or find out more about this horse, please contact Sally, either by email or phone on the links on the footer, or better still, visit our showroom in the scenic Shropshire Hills, we would be delighted to see you.
Sign Up for Newsletter