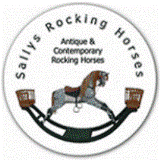 Antique Rocking Horses
Maggie
Restored antique rocking horse of unknown provenance.
Maggie is of unknown provenance, but from style and carving probably dating to circa 1920-40. She has had a comprehensive restoration by Haddons Rockers some time in the 1980's, which includes repainting with their pattern dapple grey, tack and saddle. white natural horse hair mane and tail completes this restoration.
Maggie has distinctive four pin brackets, very similar to the Ayres pattern, though Ayres noramlly only used bearer plates on larger rocking horses than Maggie.
Maggie is in very good condition, being sound and in full working order. We have giving her a light restoration, removing any light scratches and so prepare her for her new stable/home.
Height 40"

Body Length 22"

Overall Length 44"
£1100
To purchase or find out more about this horse, please contact Sally, either by email or phone on the links on the footer, or better still, visit our showroom in the scenic Shropshire Hills, we would be more than delighted to see you.