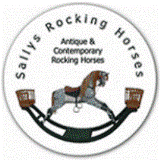 Antique Rocking Horses
Gonzo - A small toy papier mache horse.
Papier mache pull along horse on wheeled base. Original condition with some wear and tear to paintwork.
NA

NA"

NA
Sold
To purchase or find out more about this horse, please contact Sally, either by email or phone on the links on the footer, or better still, visit our showroom in the scenic Shropshire Hills, we would be delighted to see you.