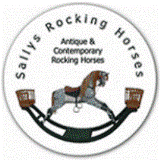 Vintage Rocking Horses
Chippendale
Very large German made hide covered rocking horse on a bow.
Chippendale is a very large hide covered German made rocking horse dating to circa 1900-40. Original but needing significant restoration which is currently in hand.
Height 55"

Body Length 38"

Length Overall 65"
Pending Restoration

To purchase or find out more about this horse, please contact Sally, either by email or phone on the links on the footer, or better still, visit our showroom in the scenic Shropshire Hills, we would be delighted to see you.