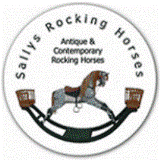 Antique German rocking horse
Belmont
German Pull Along/Bow Rocker
Belmont is a german made bow -pull along rocking horse dating to circa 1900-30. Such combinations were common prior to 1930, with a bow rocking horse that could be de-mounted and pulled or pushed along. Germany was a major producer, typcially using calfskin coverings for a more realistic finish.
Belmont has had an extensive renovation, retaining the original calfskin covering, which does show some wear and tear inevitable for a horse of this construction and age, along with the base, which has some woodworm damage (treated!). The wheels are replacements.
However the bow is replacement, although of a similar style it is probably more sturdy than the original, the tack is also replacement, again reasonably sympathetic.
It is not often we find these horses with a quality restoration, definately one for the collector.
Height 30"

Body Length 18"

Overall Length approx 40"
Sorry Sold
Germany was a prolific toy making country from the 1880s onwards. Much of their output was aimed at the cheaper end of the UK and US markets and typically smaller horses on bows with options to either pull or push. The remnant of their rocking horse industry survived the war, although situated in East Germany and making cheaper and cheaper horses into the 1990s. During the 1920s plush (man made) coverings replaced calfskin.

To purchase or find out more about this horse, please contact Sally, either by email or phone on the links on the footer, or better still, visit our showroom in the scenic Shropshire Hills, we would be delighted to see you.