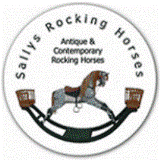 Contemporary Rocking Horses
George
A large laminate rocking horse by Ian Armstrong
Fine example of an Iam Armstrong rocking horse in good condition.
Height Overall 43.5"
Body Length 25"
Length Overall 47"
£850

Laminate
Laminate construction is a technique in making rocking horses whereby pre-cut shapes in plywood are assembled together and glued to make the body of the rocking horse. The assembled body is then sanded off ready for varnishing/painting. It is a technique that can reduce labour costs as the pre-cut sections can be cut on computer controlled machines. Plywood itself does not carve well, and so the technique leads to relatively chunky looking rocking horses. However most manufacturers who have used this technique have very cleverly used design to make up for this limitation, producing attractive rocking horses. Leading examples include Relko and Ian Armstrong.

To purchase or find out more about this horse, please contact Sally, either by email or phone on the links on the footer, or better still, visit our showroom in the scenic Shropshire Hills, we would be delighted to see you.